Home » Useful Articles » Shein Scraping: get CSV with products and images to import seamlessly to your store
Shein Scraping: get CSV with products and images to import seamlessly to your store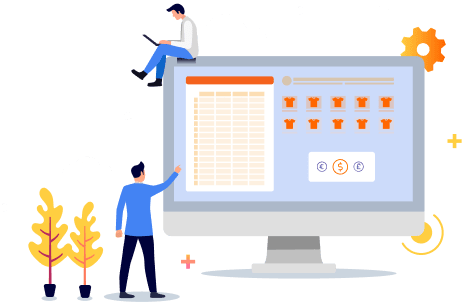 Reselling or dropshipping products from online retailers like Shein involves regular management of the product catalog. The first step is filling in your store with the products you are going to sell. Further, you will have to update the catalog to keep up to date with new collections, prices, reviews, etc.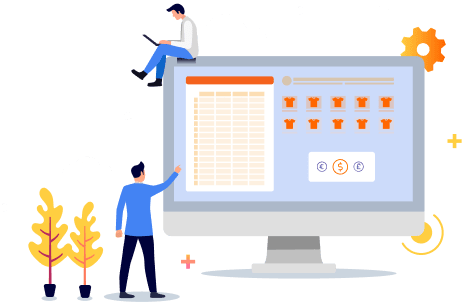 You can speed up these tasks by scraping Shein products into a file and importing it to your e-commerce platform. In such a way you can quickly add new products and update existing ones.
In this article, we will show you how to pull product listings from Shein with eScraper, the data extraction service. Also, you will find the answers to the most frequently asked questions.
An introduction to eScraper
eScraper is a service that can extract data from online stores like Shein according to your needs. It takes only four simple steps to get the data:
Fill out an online form on e-Scraper.com specifying the category or URL to grab data from.
Get your free trial file with 100 products.
Review the file, require any tweaking if necessary.
Place an order and get your complete file ready for import to your target website.
What data can be extracted from Shein with eScraper
Our scraping service can pull out all the data that is available publicly on the website. Talking about Shein these are:
Product Name
SKU
Price
Description
Size, color, and other features
Number of reviews
Rating
Product options/variations (size, color, etc)
Category path (will be specified for each item. Thus you will get a full hierarchy of products for your target website).
Image URLs
This is how the extracted data will look in a file:


Shein products scraped into a file
Apart from product data, you can get product reviews as well. The file will contain product name and SKU (for product identification) and customer reviews in separate lines.
Do you need to scrape Amazon reviews? Find a detailed guide!
Scraping Images from Shein.com
Trying to save images from Shein manually, you'll find out that they are saved not in the usual JPG format but in the Webp-file.
This kind of file can't be imported into a shopping cart.
To solve this problem eScraper will automatically convert Webp images to JPG files. These images can be directly imported to your WooCommerce, Shopify, or any other online store: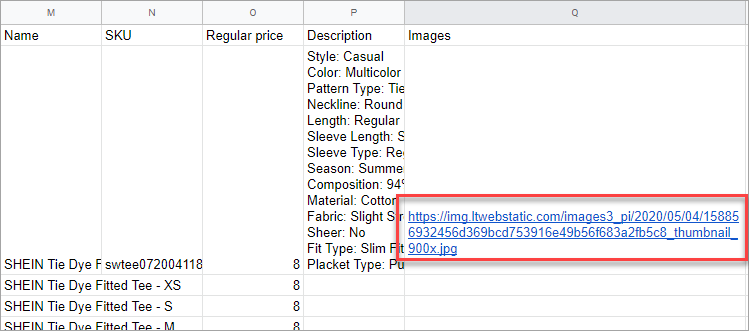 Images scraped from Shein are converted to JPG
Scheduled Shein scraping
Suppose, you need to regularly add new products to your store, monitor the prices, or get fresh reviews. In that case, you may purchase a subscription service and get the required data on a schedule.
Need to extract data from other famous online stores? Order free scrape from Asos.com, Shopware.com, Hygoshop.com, Trendyol.com, and other websites.
The frequency of updates depends on your needs: you specify how often you need to get the updates (daily, weekly, monthly) and we send you fresh data to your email or FTP.
Integration with your Shopify, WooCommerce, or other stores
If you dropship from Shein you will most likely want to automate filling out your online store with products. For this, eScraper offers the following services.
Get a native import file for your shopping cart
eScraper prepares data in the format suitable for your target shopping cart import tool. Currently, you can get files for direct import:
Here is an example of the file tailored to the WooCommerce importer: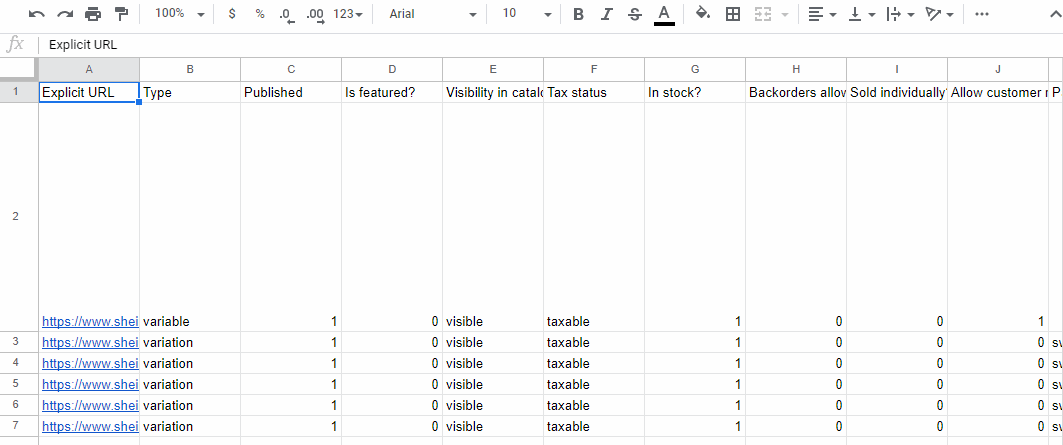 Shein scraping file formatted for WooCommerce import
As you can see, the file has been flawlessly imported to WooCommerce: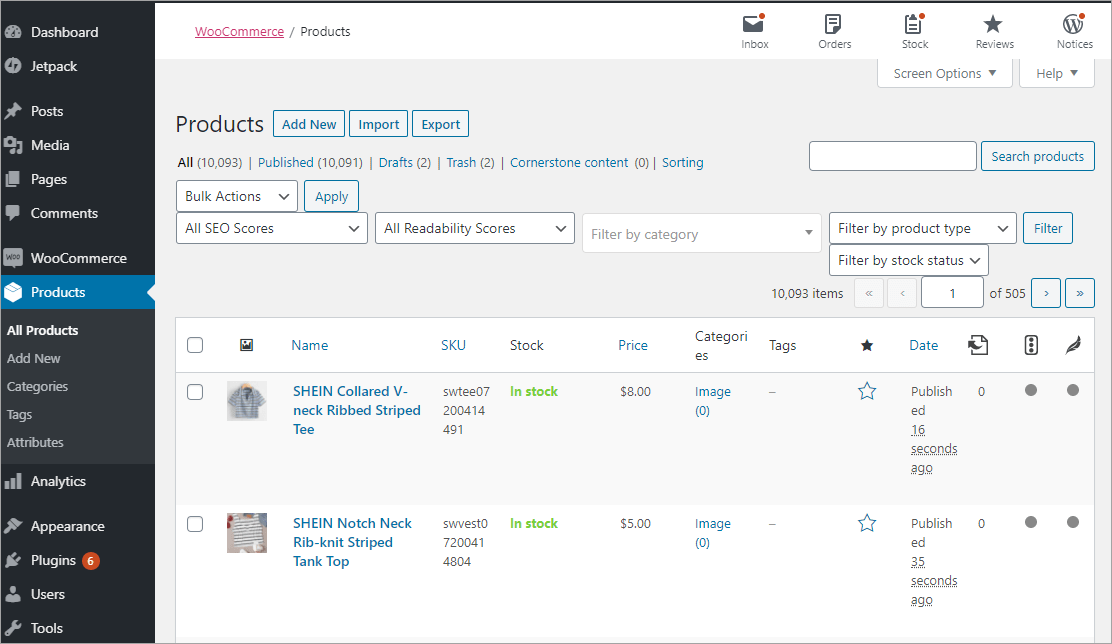 Shein products successfully imported to WooCommerce
Request data adjustments – repricing and other changes
When you get the scraped file you can do any adjustments yourself. If you want to save your time you can describe what changes need to be made and we will provide it as a free service.
The most frequent updates that our clients request are as follows:
Add % to the initial price.
Remove the trademark from the product description.
Add store name to the product description and other.
How is the price of the Shein scraping calculated
The price is calculated based on the number of rows in the result file. Variations are counted as separate products. Thus, if a product has 4 variations there will be 5 lines in the file (1 parent product and 4 child products).
Performing a free scrape we will make an estimate of the total number of products in the category you requested and provide you with a quote. This will help you select a suitable pricing plan to get a complete file with data.
The final cost of the file is calculated based on the complete file.
How do I send the required products to be scraped
You can request to extract the items from certain categories or list specific product URLs to extract data from. You can list as many links as you wish in the order form.
How to extract data from Shein for free
Visit e-Scraper.com and request your free scrape. Describe your requirements in the order form:
Category or URL to grab data from.
What fields you need in the file.
Your target platform.
An email to which ready file will be sent.
Don't hesitate and order Shein scraping to get your sample file free!