eScraper, web data extraction
software for eCommerce
Scrape product descriptions, prices, image URLs and other data
into import-ready .csv or Excel file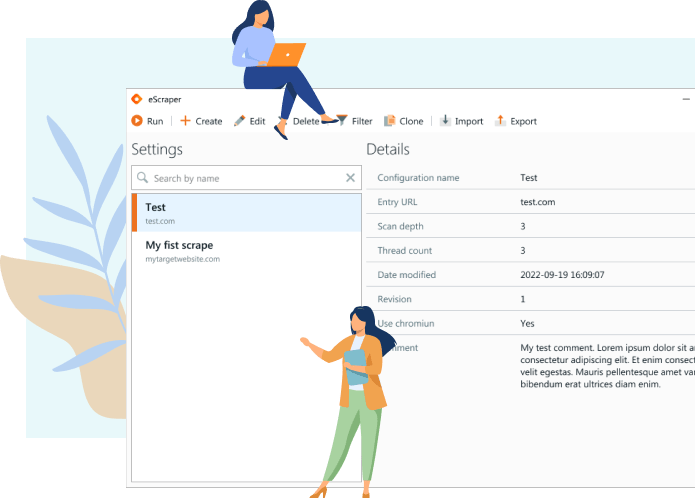 eScraper tool extracts data from any website
eScraper is a Windows/macOS application that extracts data from any website to a file. The extracted data is provided in an eCommerce-friendly format. That means the file is ready to be imported into WooCommerce, Shopify, Magento, PrestaShop, or any other store. Get all the information you need including dynamic content from drop-down lists, "show more" sections, check-boxes, and others.
You can download a free trial or order a full version of the software. The free trial version allows scraping up to 100 products, using one thread and scraping with a delay of 1 sec between URLs. The full version comes without limitations. Additionally, it offers free support and extended service period according to the package. Check the free trial version or choose your full software package clicking the links below.
Data you can get with eScraper
Description
Model
SKU
Meta title
Meta description
Price
Sale price
Special price
Wholesale price
Image(s)
MPN
Vendor
Supplier
Manufacturer
Variations
Custom options
Dropdowns
Checkboxes
Features
Lists (tables)
What else can eScraper do for you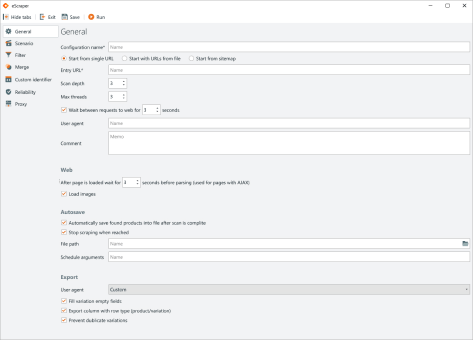 Adjust data on the fly
The application can remove HTML or any specific words, reduce or increase prices, add required values to the result file, change format of the file etc. No need to modify the file once it is saved. It is ready to be imported as is.
Schedule scraping tasks
Receive the latest file regularly – weekly, monthly or even daily. You can run unlimited number of scrapes on one machine and get result files on a schedule. No need to pay for data on demand. You can pay once and get updated data regularly. (Coming soon)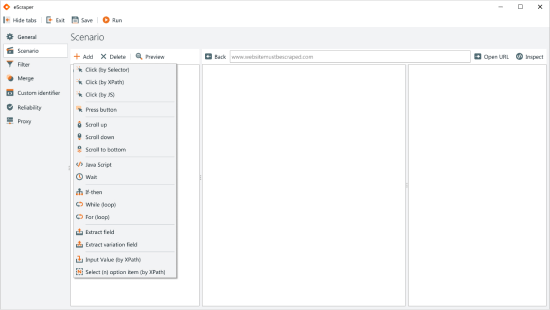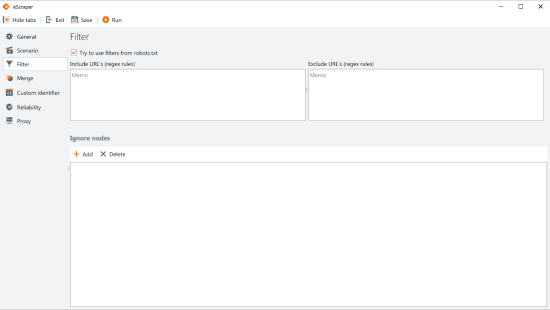 Save or send result file
Receive a file via email (coming soon) or save it in a local folder (available now), FTP, or Google Spreadsheet. Make your decisions based on actual data. Forward data to your content managers or sales.
Import file into your site
The exported file is import-ready (if format is available and selected). Request more formats in case you need any other shopping cart format to be added. Also request additional technical service to proceed with data import, in case further assistance is needed.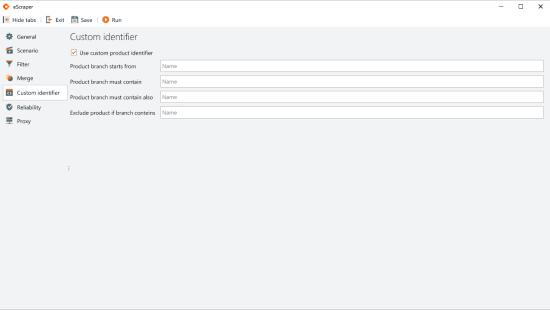 eScraper Pricing


* Free trial version limitations: 14 days trial period, up to 100 products per file/scrape, 1 thread, 1 sec timeout
What our customers say about eScraper
I am thoroughly impressed with your service, your friendly communication, the quality of your work and the fact that you are open to personalized scraping request as much as you can plus I can rest assured knowing that you are always going to come through with exactly what I need. Such product delivery and service is very very rare to find nowadays and deserves praise and acknowledgement. Feel free to publish this as well. You have my permission.

Take care and thanks again for the excellent service.

Warm regards


Mark
Chief Marketing Officer
eScraper saved me days of work in few minutes! And the best part is that it was totally free! (up to 100 products) Probably going to use it a lot more time.
Task: Export Facebook shop products catalog to WooCommerce


Ori Krispel
Private Entrepreneur
Jun 10 2020
Best service so far found on the internet!


Orlea
CEO, The Underwear Expert
Wow that looks amazing. Thank you.


Eugene
Product Manager
eScraper Release Notes
Great news for the eScraper software users! A new version of eScraper software 2022.12.0.15 has been released (Windows)! Discover all the improvements and fixes below and update your eScraper.

Improvements:
Now upon using one license key on several computers, the user can register the key on the current computer.
For the parameters Wait up to and Page identifier, optimal default values have been set.
Now after closing the window with a trial license, the configuration editing window is not exited.
The required fields for adding a scenario have been defined.
The Settings panel now resizes optimally upon the program window resizing.
Fixes:
Fixed issue when the program would freeze if wrong URL or timeout parameters have been specified.
Fixed issue with displaying an empty DevTools window after minimizing or maximizing the program window.
Fixed issue with maximizing the program window after a scenario execution.
Fixed issue when the DevTools panel would still display after exiting the configuration editing window without saving.
eScraper software v. 2022.11.0.11 Alpha
We are happy to announce the new release of eScraper software v. 2022.11.0.11 Alpha version for Windows

Free Trial version limitations:
14 days free trial period (one-time)
Up to 100 products per file/scrape
1 thread
1 sec timeout
Full version
available for purchase is offered without the above limitations and with limited time of free support and update service period. Technical support is offered for additional fee.
eScraper Features:
Products and product details can be scraped and saved into file. Data scraping can be done to get product prices, descriptions, images, etc from external site
All product image URLs can be saved into file in appropriate format (agregated or in separate columns/rows)
eCommerce friendly format allows you to import the result file into WooCommerce, Shopify, Magento or PrestaShop without any furhter modifications
Product variations support added. Now you can scrape produt with variations and get the import ready file with all scraped data included
We welcome you to give it a try and provide us with your feedback. More features coming soon.