Pet products data scraping: cases and how-tos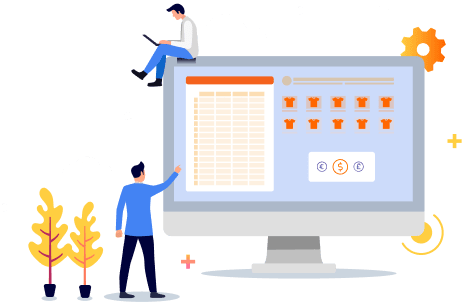 If you are engaged in the pet products industry, data scraping can be a great helper in a number of situations. The most common are getting product listings from your supplier, analyzing competitor product and pricing strategy, monitoring customer reviews, and others.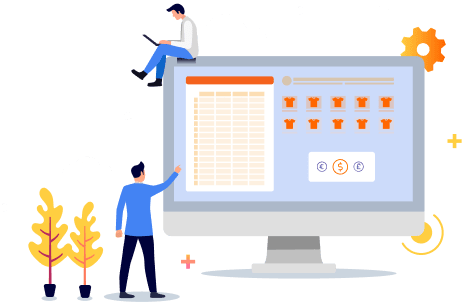 In this article, we'll show you how to get quality, structured, usable data for each of these tasks.
The assortment of pet products in a store can include thousands of positions: pet food, pet care, pet supplies with multiple sub and – sub-sub categories. To create product listings on your website, you need to get all products with details: names, descriptions, quality images, product codes, etc.
Where can you get this information? The perfect scenario is when you receive it from your supplier. But there might be a number of inconveniences:
Incomplete information – the file doesn't contain product codes or descriptions.
Insufficient image quality or no images at all.
Format of the file can't be imported into your store or requires a lot of editing.
A popular solution to getting the required details is scraping them from the supplier's website.
Note: be sure to obtain your supplier's permission to scrape data from their website.
Here is how it works with eScraper data extraction service.
Fill out an online form specifying the following:
Website to scrape data from. You may specify a standalone store address as well as a link to Amazon, eBay, Walmart, Etsy, and other marketplaces.
Product fields: images, product title, description, SKU, variations, wholesale price.
Comments, specific requirements, for instance:

only get items that are in stock
get descriptions with/without html
scrape pet product categories
prepare a file in the specific format (to be imported to WooCommerce, Shopify, PrestaShop, Magento, or other shopping cart).

Your email address – where we'll can send you a free and full scraped file.
After you submit your request, you will receive a sample of extracted data. If you have specified your target shopping cart, the file will be formatted accordingly. As we've stated above, the available formats are WooCommerce, Shopify, PrestaShop, and Magento. In case you need any other format, specify it in the form and get a file with your specific requirements.
Here is an example of the file with scraped pet products data structured for the WooCommerce default importer.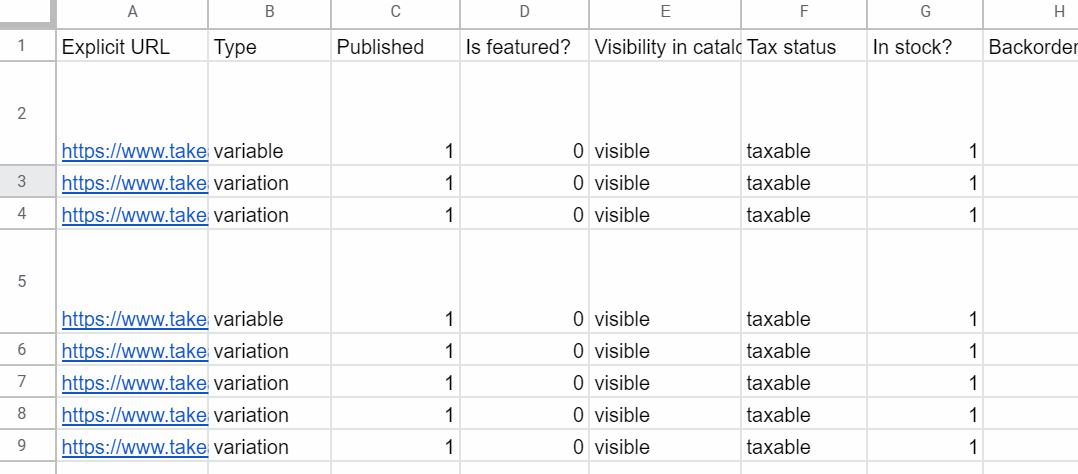 Pet product details scraped for WooCommerce
Highlighted columns contain the data extracted from the website, while the others are WooCommerce fields required to create new products. Thus you get not only scraped data but an import-friendly file that you can upload directly without additional modifications.
Download a file sample for WooCommerce here
Analyzing reviews from the pet product websites can give you a lot of valuable insights:
which brands get the most reviews
which brands have the highest score
how is the score changing overtime
There are a lot of places where you can find reviews on dogs' or cats' food and other stuff: Amazon, Walmart, Target, PetSmart, PETCO, Chewy.com and others.
To get reviews for analysis, you only need to specify a website address and the fields to scrape: review date, title, review, stars, images, etc. eScraper will extract the reviews and send you a file to your email or FTP.


Pet product reviews scraped into a file
This data can be used for further import or manual analysis.
Suppose, you're launching a startup in the pet store business and want to get a list of as many brick-and-mortar pet shops in your area as possible. Web scraping can help with this task too.
How to get pet store contacts
In the eScraper website, fill in the following details in the online form:
What location/area you are interested in. There are a lot of resources listing pet stores addresses: https://www.petsmart.com/store-locator/, https://www.petbusinessworld.co.uk/, https://pet-shops.regionaldirectory.us/, Google Maps, yellow pages and others. If you want to extract data from a specific website, provide its URL.

Also, you can outline the data and location by region or a zip code and we'll extract company details from the search results. Here is an example of pet store contacts scraped from Google Maps:

Pet store contacts scraped

What company details you want to see in the file:

Store Name
Address
City
State
Zip/Postal
Upon receiving your request, we'll share with you samples for review and estimated cost of data extraction.
Online shopping allows pet-lovers to compare prices across various websites before placing an order. So, to stay competitive you surely need to track prices, at least on most popular products.
With eScraper, you can get the latest prices from a supplier, manufacturer, local or global competitors.
Simply submit a form for a test price scraping, specify competitor list and specify fields to scrap: product name, sku, model, special price and price, stock, or any other.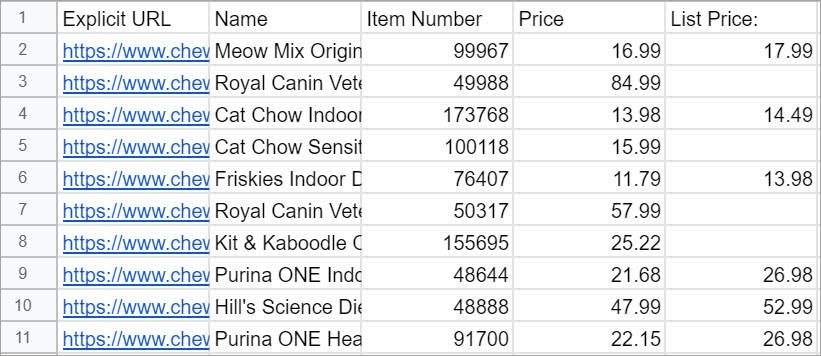 Pet product prices extracted into a file
Ordering a subscription service you will get price updates on a schedule. Thus, you'll be able to:
learn about competitor sales, promotions, and special offers,
monitor base prices to make sure your offers are competitive,
track supplier's prices if they do not provide data on a regular basis.
Check eScraper pricing to compare one-time and subsctiption service.
Wrap-up
Having a scraping service in your marketing toolkit, you'll be able to get the information you need and make appropriate data-driven decisions.
Scrape pet product details, reviews, contacts, and prices
Try eScraper