Home » Useful Articles » Shopify product scraper: extract products and get a perfect CSV file for import
Shopify product scraper: extract products and get a perfect CSV file for import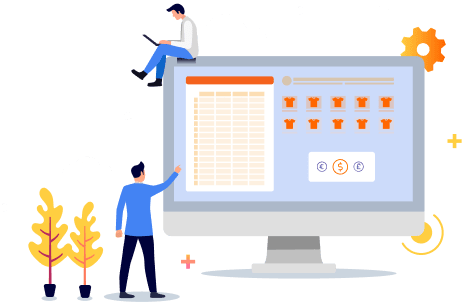 Shopify product scraper is truly a helping hand when you need to analyze competitor products, monitor prices, track new arrivals, and special offers. Automated extraction of data helps you to be prompt at reacting to the market changes and as we all know, speed is crucial in business.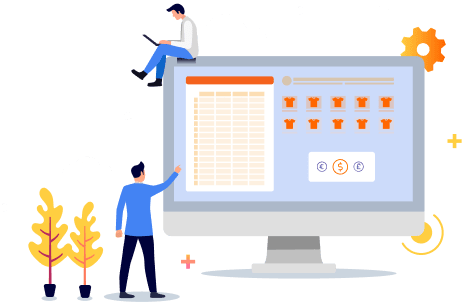 But extracting data from a Shopify store is only half of the task. To be able to use it for analyses you need to have data formatted accordingly. In this article, we'll give you an overview of the Shopify product scraping method that will help you get data in the best suitable format.
Steps to use Shopify product scraper
Fill in the form on e-scraper.com to get a free test file.
Specify file format.
Review test file with Shopify product listings.
Purchase the Shopify product scraping service and get a full Shopify listing.
1. Fill in the form on e-Scraper.com to get a free Shopify scraping
Go to e-Scraper.com and click the Free Scrape button. Fill in the form: paste the Shopify store's URL (or a list of URLs if you want to Scrape an array of Shopify websites). Enter the email address to send the sample file to. Specify what Shopify product fields have to be scraped:
Handle
Title
Body (description)
Images (+additional images)
Options
Product type
Tags
Variants
Vendor
Collection
Category
Also, you can specify additional details like whether you want to export all products, given collections, or even certain products.
2. Specify the file format
To be able to further use the scraped Shopify product listing, you need a perfectly structured file. That is what eScraper is really good at! By default, you can get the scraped Shopify data in the following formats:
Plain CSV
Shopify
WooCommerce
PrestaShop
Magento
Here is an example of the products scraped from a Shopify store and formatted for import to Shopify: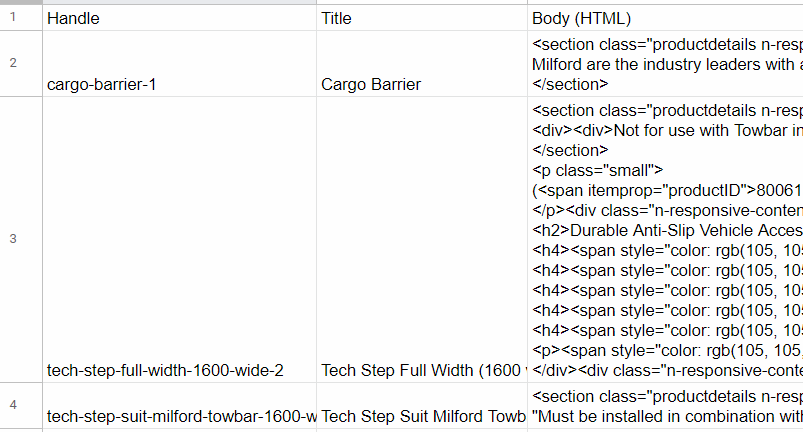 Shopify data scraped to a file
Also, you can order the development of the custom file formats for the following tasks:
Import of the scraped Shopify listings to a CRM.
Import to PowerBI.
Import to an ERP system.
Import to a global or local marketplace.
Do you need to import data to your specific software? Provide a sample of the file structure and get an import-friendly file.
3. Review the test file with Shopify product listings
After we get your requirements for the data and file structure, you'll receive the test file by email. We recommend that you review it carefully, try to import, filter data, and perform other actions to make sure the file fits your needs.
4. Purchase the Shopify product scraping service and get a full listing
Once you've approved the file, we'll provide you with a quote for the Shopify product scraping service. Thus you'll be able to select an appropriate pricing plan and make the payment. The complete file can be sent to your email, Google Sheets, or FTP.
Now you can use scaped Shopify data for your business needs. Need to get fresh data? Order scheduled scraping and receive fresh Shopify listings to get your competitive edge!